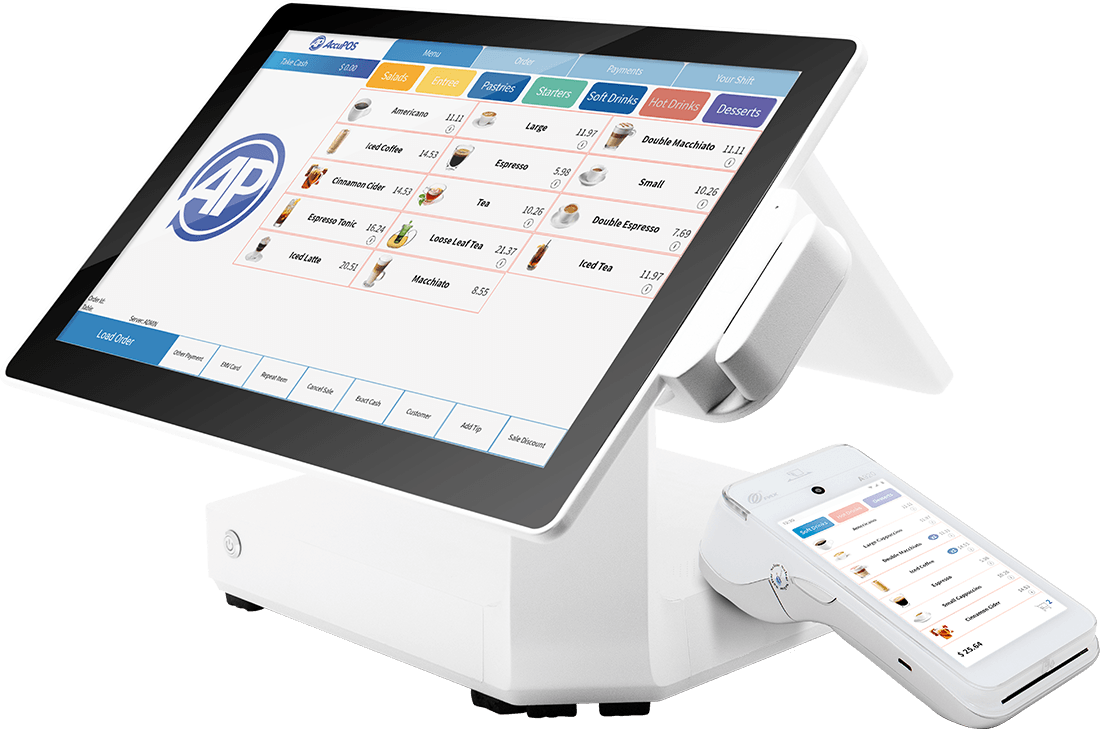 Everything you could ever want in Restaurant POS Systems
With expert support, flexible device options for PC & Android, and award-winning services, AccuPOS offers the Restaurant POS Systems that are with you before, during, and after the rush.
Effortless Interface
So easy to use, it'll take minutes, not hours, to train staff members. After a simple tutorial, they'll master the intuitive restaurant POS system, drastically reducing wasted time and the possibility of costly errors.
Harmony with your Hardware
AccuPOS restaurant POS systems work seamlessly with customer terminals, kitchen displays, printers, bump bars, and more. Use your own PC or Android equipment, or benefit from our heavily discounted packages of software and hardware tailor-made for your restaurant.
Fully EMV Ready & PCI Compliant
Rest easy knowing that you're ready for the latest EMV regulations. Process thousands of credit cards with the security that your restaurant Point of Sale system is PCI Compliant.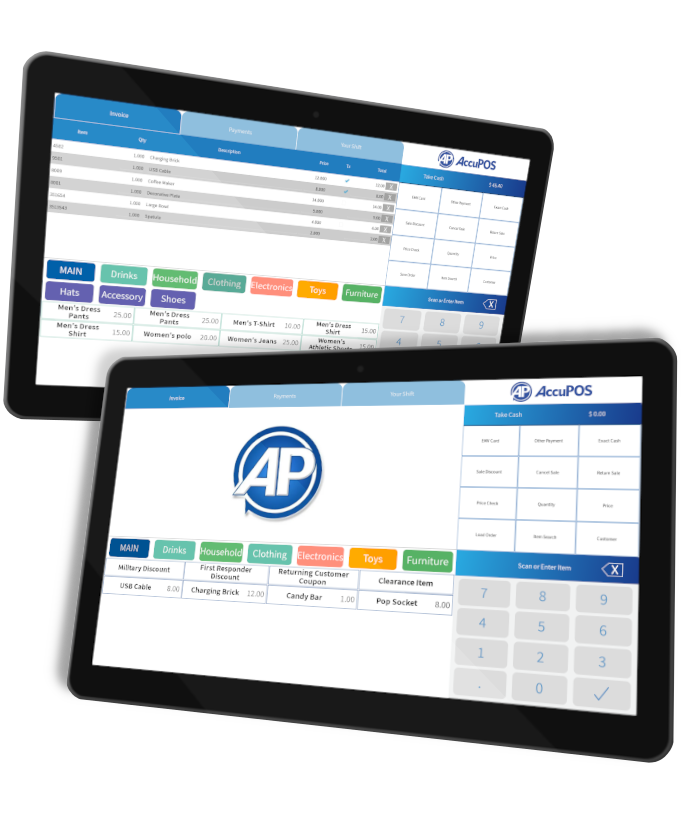 The Latest in Mobile Ordering Technology
AccuPOS handheld point of sale devices are built with your restaurant in mind. Your staff can take orders right at the table, eliminating the need for handwritten tickets. Accept payments with credit, cash, gift cards, and loyalty services with the built-in card readers, and wireless NFC. And with more online orders than ever, you can keep up with curbside pickups and on-the-fly payments.
Ready to get started? Request a quote today.
We could not operate our business without AccuPOS. The flexibility we have just kills any other software package. I know if I get stuck or in a jam, support is a phone call away.
Myong Gourmet
Mount Kisco, NY.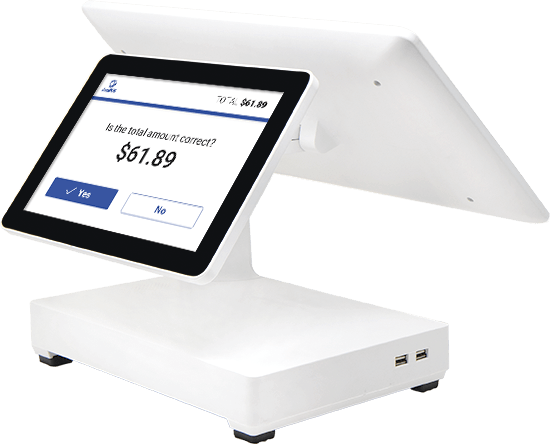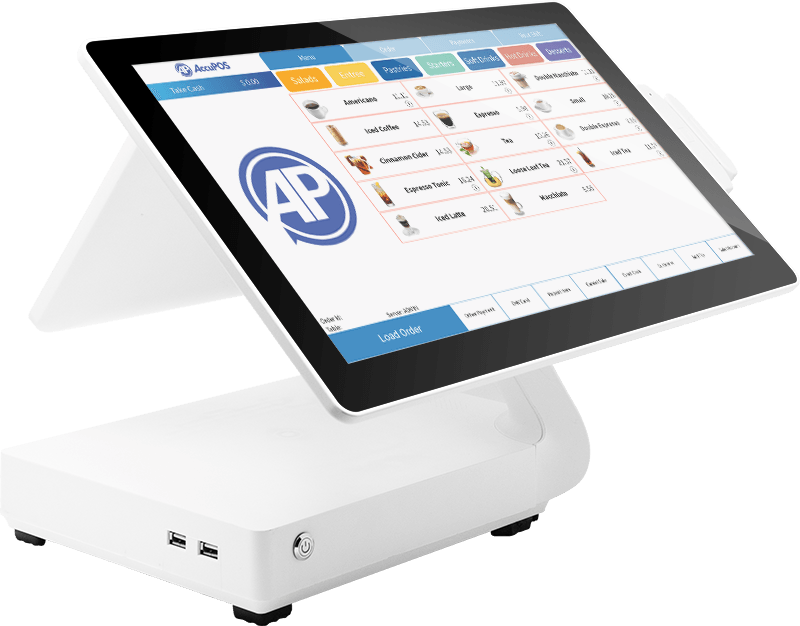 Keep Your Focus on the Food
Running a restaurant is tricky enough. Updating the books, chasing staff for time sheets; it means longer days and shorter tempers all round. With AccuPOS for restaurants, you only have to worry about the thing that matters most – providing your customers with top service.
Suitable for all service types
The AccuPOS™ Restaurant POS Systems are affordable, full-featured solutions that are ideal for every form of restaurant, including take-out & delivery, fast food, self-serve, buffet, coffee shops, and local eateries all the way to fine dining, bars, nightclubs, and country clubs. We work with you to design the most efficient and economical custom POS solution for your exact needs. Employees will quickly master the intuitive Point of Sale interface, eliminating the need for any other restaurant software
Know your best sellers and control costs
Keeping track of sales & expenses is essential to any thriving restaurant. With AccuPOS Point of Sale software, you'll be able to generate online reports from any timeframe, be it weekly, yearly, or beyond. Accurate tracking of food and beverage costs will help keep you profitable as a business, and ensure you're efficiently stocked in the kitchen. What's more, the data can be accessed from anywhere, meaning you can tweak a menu or dream up a special whilst on the go.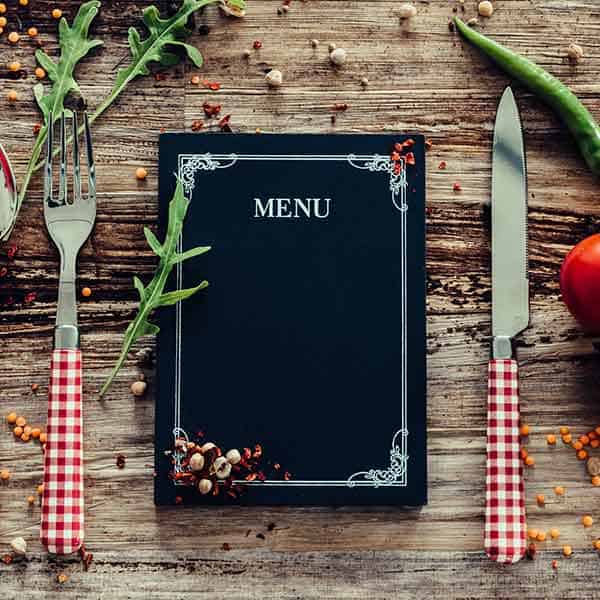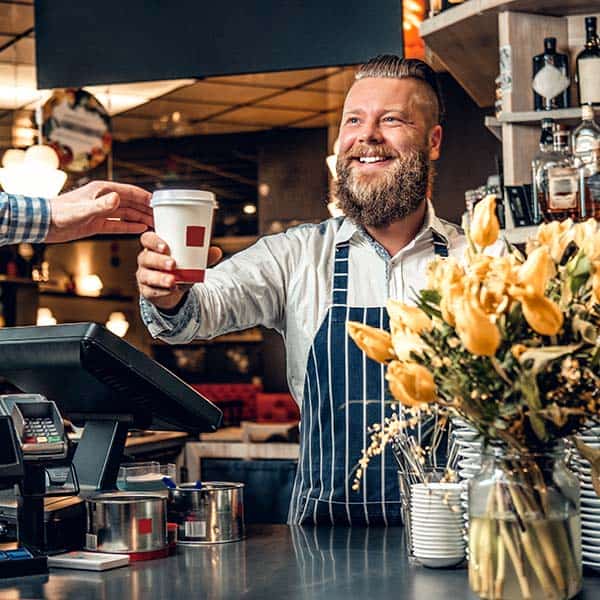 Time tracking for your staff
The additional AccuSHIFT software add-on lets your staff clock-in and out securely on the same screen they use for sales, then automatically sends the info to your timesheets. Sounds simple? It is. Easily make corrections, add new employees, and make use of our customized swipe cards to add convenience and security. AccuSHIFT can launch seamlessly from your main POS screen, or be installed separately on a mounted Android tablet in your employee area. Whatever it's doing, it'll always look, feel, and work the same.
Award-winning service
We take immense pride in caring about our customers, and we've done so for nearly two decades. We know that when our customers are successful, we are too, which is why we put so much focus on service before, during, and after a sale. Your restaurant POS system is in good hands.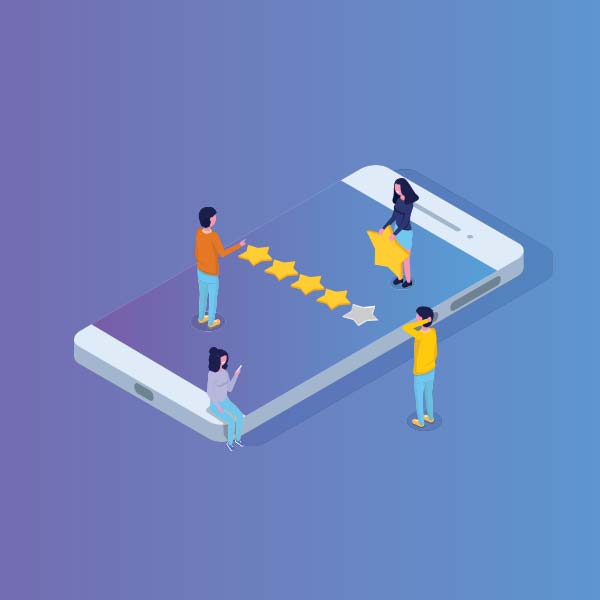 Speed Up Sales
Easy to use, easy to master. Fly through our simple, friendly interface with lightning speed. We believe in turning waiting visitors into paying customers as efficiently as possible.
Eliminate Mistakes
Drastically reduce staff errors and lengthy training sessions. Intuitive, smart point of sale software makes setup and use unbelievably smooth.
Customize Your Storefront
Add your branding to the interface, turning your point of sale into a marketing banner. Receipts, emails, and screens with your logo front and center.
Customize Your Storefront
Add your branding to the interface, turning your point of sale into a marketing banner. Receipts, emails, and screens with your logo front and center.
Keep On Growing
AccuPOS smoothly scales as your business grows, even if you open new locations. It's impossible to outgrow AccuPOS, no matter big you get.
Create Powerful Receipts
Save paper and build a customer database by emailing receipts to customers – great for marketing to repeat buyers. Quickly retrieve any receipt from anytime.
Upgrade Your Security
We're EMV ready, and have been for years. You can use your own compatible EMV equipment, or purchase everything you need directly from us.